Phone Wireless Handheld Color Doppler Home Mobile Ultrasound Diagnostic Instrument | DAWEI
$1,969.00
$2,089.00
saving
$120.00
| /
Phone Wireless Handheld Color Doppler Home Mobile Ultrasound Diagnostic Instrument | DAWEI
$1,969.00
$2,089.00
saving
$120.00
| /
Mobile Wireless handheld color Doppler ultrasound diagnostic system convex linear micro-convex dual-probe phrased array probe
Product advantages:
1. Flexible collocation
Display devices with different screen sizes according to needs: mobile phone-tablet (Android system, Apple IOS system)
2. Wi-Fi connection
Get rid of the shackles of wires, with a distance of 15 meters, the signal will not attenuate.
3. Wireless charging, convenient and fast.
Invisible charging is carried out by wireless magnetic induction charging, which greatly reduces the wear rate of equipment, has a wider range of applications, has high technical content, easy to operate, and can be charged at any time.
4. Use time ≈ 2 hours
Wireless charging at any time to extend the use time
* Battery capacity 1350mAh
5. Waterproof grade IPX-5
If it needs to be cleaned after use, the front end of the probe can be directly rinsed or wiped with wet wipes, which can effectively prevent the spread of pathogens and mutual infection, causing epidemics.
6. One-button switch on/off, multiple states are clearly visible
The power indicator is displayed in real time, which can effectively control the use time and efficiency.

Overview:
Check mode: B, B/M, CFM, PDI, PW.
Product function parameters:
Gain GN: G30~G105
Depth D: 20mm-305mm
Image enhancement (SRI): 0-4 grades, 5 levels
Wall filter: a total of 16 levels adjustable
Measurement aid: Measuring magnifier
Puncture:
In-Plane
Out-Plane
Introduce
Model
Number of elements
Frequency
Convex linear double-head probes
DW-X1
64

3.2MHz,

7.5MHz

Convex array probe
DW-C1
80
3.3MHz
Linear array probe
DW-L1
128
7.5MHz
Linear array probe
DW-L2
128
10.0MHz
micro-convex probe
DW-C2
128
6.0MHz
Phased Array Probe
DW-P1
64

2.7MHz


Check presets:
Convex array: abdomen, gynecology, obstetrics, heart, urinary system, kidney, etc.
Linear array: thyroid, small organs, blood vessels, carotid arteries, breast, musculoskeletal, nerves, etc.
Micro-convex: heart, abdomen, etc.
Phased array: heart, abdomen, etc.
Clinical Images: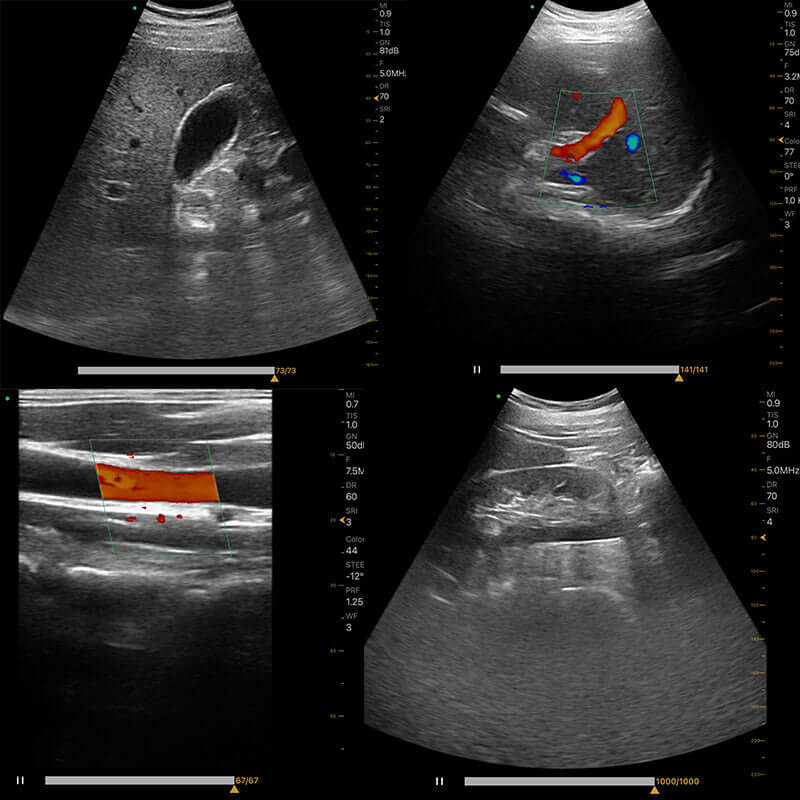 Technical Data Sheet:
Parameters of wireless handheld color Doppler ultrasound diagnostic instrument

1

configure:

One probe and one set of wireless charger

2

hardware requirements

 

IOS version

Processor dominant frequency: ≥ 1.8GHz,

Memory: ≥ 2G,

Display screen: ≥ 9.7 inch,

Screen resolution: ≥ 2048x1536,

Brightness: with ambient light detection function and display brightness correction function

Operating system: iOS12.3 or above

Network protocol needs to be compatible with 802.11n protocol

Android version

Processor dominant frequency: ≥ 22GHz, processor model: ≥ Qualcomm Snapdragon 660AIE,

Memory: ≥ 4G,

Display screen: ≥ 8 inches,

Screen resolution: ≥ 1920x1200,

Brightness: with ambient light detection function and display brightness correction function

Operating system: Android version 8.1.0 or above

Network protocol needs to be compatible with 802.11n protocol

3

advantage

Easy to operate and carry, it can be used in various clinical scenes;

WiFi connection, get rid of wire bondage;

15 meters away, no signal attenuation;

Wireless charging, ready to use;

4

Scope of application

It is applicable to medical and health institutions such as hospitals, clinics, disease control centers, clinical testing centers, health care centers, first aid stations, nursing stations, ambulances, nursing homes, childcare centers, plastic and aesthetic institutions, etc. at all levels and in various types of hospitals, clinics, disease control centers, clinical testing centers, health care centers, first aid stations, nursing stations, etc. It is used for human clinical ultrasonic examination, including ultrasonic examination of abdomen, superficial organs, peripheral blood vessels, etc.

5

Performance introduction:

5.1

Scanning mode

Convex array/linear array

5.2

pattern

B、B/M、CFM、PDI、PW

5.3

Check presets

Convex array: abdomen, gynecology, obstetrics, heart, urinary system, kidney, lung

Linear array: thyroid, small organs, pediatrics, blood vessels, carotid arteries, breast, musculoskeletal, nerves

Micro convex: heart, abdomen

Phased array: heart, abdomen

5.4

Measurement method

General measurement: length, area/perimeter, trajectory, depth, angle

Obstetric measurement: head hip length, biparietal diameter, gestational sac diameter, femoral length, head circumference, abdominal circumference, fetal weight (biparietal diameter), fetal weight (femoral length)

B/M measurement: heart rate (2), duration, distance, LVID measurement

PW measurement: speed, S/D, heart rate (2), depth

5.5

Number of movie playback frames

100/200/500/1000

5.6

B mode parameters:

5.6.1

Gain GN

Range: G30 ~ G105;

5.6.2

Depth D

Convex array 90mm-305mm

Linear array 20mm-100mm

Slightly convex 30mm-120mm

Phased array 90mm-190mm

5.6.3

Image Enhancement (SRI)

0-4, 5

5.6.4

focus

2 focus points, 4 groups of positions in total, 1 focus point for convex array probe;

5.6.5

puncture

There are two kinds of puncture auxiliary functions: In Plane (in-plane guide line)

Out Plane

5.6.6

frequency

DW-X1: 2-segment frequency conversion, convex array 3.2MHz-5.0HMz, linear array 7.5MHz-10.0HMz

DW-C1:2 section frequency conversion, 3.2MHz-5.0HMz

DW-L1:2 section frequency conversion, 7.5MHz-10.0HMz

DW-L2: 2-section frequency conversion, 10.0MHz-14.0HMz

DW-C2: 2-section frequency conversion, 6.5MHz-8.0HMz

DW-P1:2 section frequency conversion, 2.2MHz-3.6HMz

5.7

CFM mode parameters:

 

5.7.1

Color Gain

Color gain, range 0-100;

5.7.2

Scale(PRF)

Pulse repetition frequency, 4 groups in total:

1.25K, 2.0K, 3.2K and 4.0K for linear array;

The convex matrix is 1.25K, 1.6K, 2.5K, 3.2K;

5.7.3

Wall filtering

0-15, 16 gears in total;

5.7.4

Red blue flip

Color code flipping;

5.7.5

Deflection angle (Steer)

Three groups of angles: - 12, 0,+12

5.8

PW mode parameters:

 

5.8.1

PW Gain

PW gain, range 0-100;

5.8.2

Sampling volume

The sampling volume is 1mm  2mm  5mm;

5.8.3

Deflection angle

Sampling line angle, 5 groups of angles in total: - 12, - 7, 0,+7,+12;

5.8.4

Correction angle

Sampling gate angle,+60 degrees, 0, - 60 degrees.

5.8.5

Scale(PRF)

Pulse repetition frequency, 4 groups in total:

The convex matrix is 1.25K, 1.6K, 2.5K, 3.2K;

1.25K, 2.0K, 3.2K and 4.0K for linear array;

Slightly convex: 1.25K, 2.0K, 3.2K, 4.0K;

The phased array is 2.0K, 2.5K, 3.2K, 4.0K;

5.8.6

Correction angle

Sampling gate angle, - 85 ° to 85 °, step 5;

6

other

6.1

Measurement aids

Measuring magnifier

6.2

DICOM

Transferable

6.3

notes

Text annotation

6.4

Save Video

MP4, up to 1000 frames (≈ 77 seconds)

6.5

Save Picture

JPG 、 DICOM

6.6

Usage time

≈ 2 hours

6.7

Battery capacity

1350mAh

6.8

size

DW-X1:123mm*52.6mm*22mm

DW-C1:116mm*71mm*22mm

DW-L1:115mm*65mm*22mm

DW-L2:114mm*52mm*21mm

DW-C2:132mm*52mm*23mm

DW-P1:127mm*52mm*23mm

6.9

weight

95-125g