Hospital Clinic Health Care Center Portable 3 Channel ECG Machine ME03 | DAWEI
Hospital Clinic Health Care Center Portable 3 Channel ECG Machine ME03 | DAWEI
Feel free to chat with us. (The entrance floats on the right-hand side of the page)
From US$659 down to US$589,

E

njoy 10% off, Limited to 5 units!

Product name: Brand New Portable 7-inch Touch Screen 3 Channel ECG Machine With Printer ME03 - Accurate Diagnosis Anywhere - Get Quick & Reliable Heart Rhythm Analysis On The Go!
What's in the package?

ECG Machine ME03- Group A -
button type ECG cable
Packing list: 1* main unit + 1* 12-Lead ECG cable(button type) + 10PCS Disposable electrode pads + 1 roll of 3ch printing paper +1* power cable
ECG Machine ME03- Group B -
plug-in type
 ECG cable
Packing list: 1* main unit + 1* 12-Lead ECG cable(plug-in type) + 1 box of suction ball (adult) + 1 box of limb clip (adult)+ 1 roll of 3ch printing paper +1* power cable
ECG Machine ME03- Group C -
clamp type 
ECG cable
Packing list: 1* main unit + 1* 12-Lead ECG cable(clamp type) + 10PCS Disposable electrode pads + 1 roll of 3ch printing paper +1* power cable
How will I conduct this machine?
A paper version of the Quick Operation Guide will be in the shipment
PDF of the User Manual
Free training
Online support
ECG waveform interface after connecting to the workstation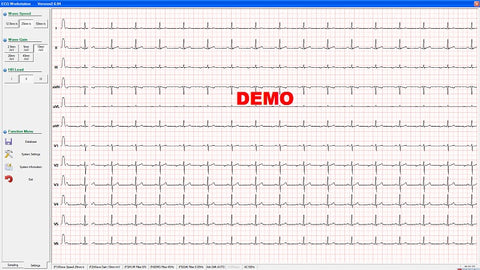 What are the functions in the settings interface?
✅Click the [Settings] icon on the navigation interface, and the machine enters the setting interface.
✅ Settings include: system settings, sampling settings, analysis settings, print settings, hospital information.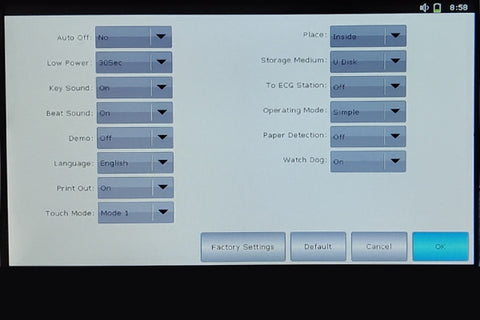 How to perform a 12-lead ecg?
An ECG stands for electrocardiogram. It is a tool used to detect a wide range of heart dysrhythmias using waveforms on a monitor. It is used by healthcare providers regularly both in the hospital and by EMS.
Read more: Simple Steps for 12-lead ECG Application
How to connect lead cables?
✅The lead wires include 6 chest leads and 4 limb leads.
✅Users can distinguish the chest leads from the limb leads by the color of the lead wires and the logo on the electrode plug.
✅Connect the lead wire: Insert the lead wire plug into the cable socket (Patient) on the right side of the electrocardiograph, and tighten the knobs on both sides of the plug.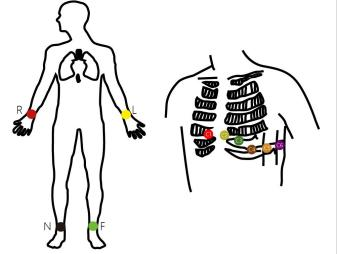 How to install Thermal Recording Paper?
The installation steps of printing paper are as follows:
1) Press the button of the paper compartment cover on the left side of the machine to pop up the paper compartment cover;
2) Take off the packaging of the new reel recording paper, put the printing paper inside the paper reel, and place it in the printing paper compartment;
3) Pull out the recording paper about 2cm, insert the printer cover horizontally and press the printer cover firmly.
Note: Thermal paper can only be printed on one side, if the thermal paper is installed backwards, the information will not be printed normally. Judgment method: After pulling out the thermal paper and closing the cover of the paper compartment, pull the thermal paper to the left, and the ECG grid should be facing up.
 Functions & features
●Support languages: CHN ENG RUS FREN GER PORTU SPAN
● 12-lead synchronous ECG acquisition;
● Equipped with high speed and high sensitivity hot spot recording system, with print trace depth adjustment function;
● 7-inch high-definition and wide-angle color LCD screen, capacitive touch control, 12-lead display;;
● Six ECG record combination modes;
● 3 channels/ (3+R) channels/dual-row 6-channels/single-row 6-channels/single/dual-row 12-channels six ECG display combination modes;
● Accurate ECG automatic diagnosis function, with heart rate exceeding alarm function, and freely set whether to print the measurement and analysis report;
● Full keyboard touch input to enter hospital and patient information;
● With real-time ECG waveform freezing function, it is easy to grasp the patient's important ECG waveform;
● Manual, automatic, rhythm, physical examination and other operating modes;
● With RS232 communication interface, USB interface and LAN network interface;
● External large capacity USB memory, can achieve the storage, playback and printing of historical data on the computer;
Built-in large capacity any ion rechargeable battery, and a special charging circuit and perfect battery management and protection system;
●With lead off detection function, with paper shortage detection function;
● Wide power supply design, suitable for 110-230, 50/60hz ac power supply.
Memory capacity can be expanded by USB flash drive.
★ Can be connected to the ECG workstation, with a strong patient file management function, can store up to 500 ECG reports;
★ With low power consumption mode, it can automatically enter standby mode or shut down after a certain period of inactivity;
★ High-resolution thermal dot matrix print output; baseline stability detection to ensure that neat and beautiful ECG wave forms can be printed every time;
★ Save the ECG report format as ECG, which can only be opened through the ECG report browser (free) after saved in the computer.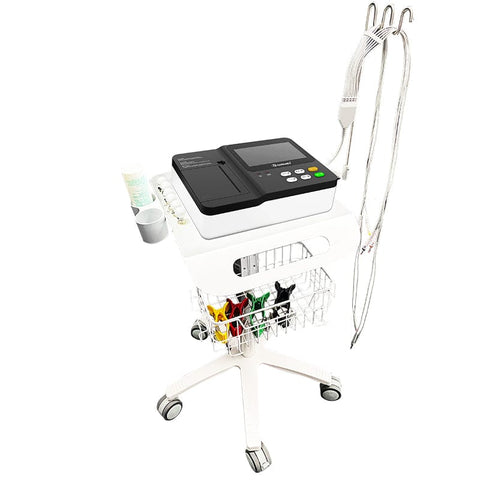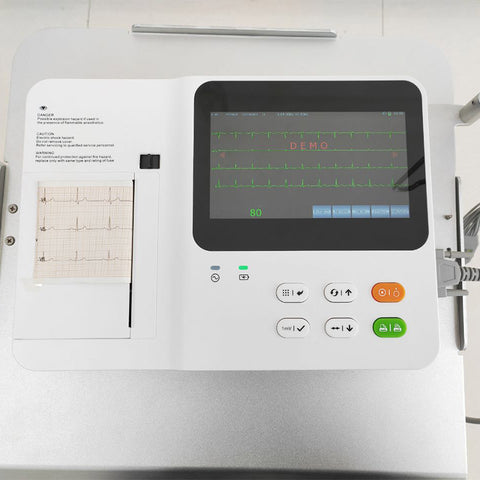 Technical indicators
Common mode rejection ratio

≥100dB

The input circuit

Float, defibrillation

Input loop current

≤0.1чA

Sampling rate

12bit/1000HZ

Operating mod

Manual/automatic

The filter

Power frequency filter, EMG filter

Drift filtering

Anti-drift system

The input impedance

>50MΩ

Patient leakage current

<10чA

Fuse specification

T1.6A/ 250V Ø5×20

Recording paper specification

Scroll/folding thermal recording paper (80mm)

Calibration voltage

1mV±3%

Polarization resistance voltage

±500m V

Time constant

≥3.2s

Frequency response

0.05Hz ~ 165Hz

Noise level

≤15чVp-p

Minimum detection signal

≤20чV

The feeding speed

12.5 mm/s、25mm/s、 50mm/s

The sensitivity

5,10,20 (mm/mV ±5 %)

Record

3 channel high-resolution thermal printing

The battery

10.8V/2.6Ah(28.08Wh)

Overall dimensions

320mm×230mm×81mm

Net weight:2.5KG

Size of packing box

390mm×300mm×215mm

Gross weight:4.5KG
We provide the following seven types of power cords:
US plug, UK plug, EU plug, IT plug, SA plug, IL plug, Great SA plug
Please note the required power cord version in the order. If there is no note, the power cord version will be selected according to the country where the order is shipped.  
Please Note: Accessories such as trolleys need to be purchased together with the machine, and additional shipping will be charged for separate purchases (estimated between 300-600 US dollars)