Pre-sales service is an often overlooked but crucial position. They are the first contact with Dawei's customers, and how to handle the customer's inquiries will directly determine the customer's first impression of Dawei.
Today, we will invite one of our pre-sale service specialist, Tina Yang to share her stories behind the work.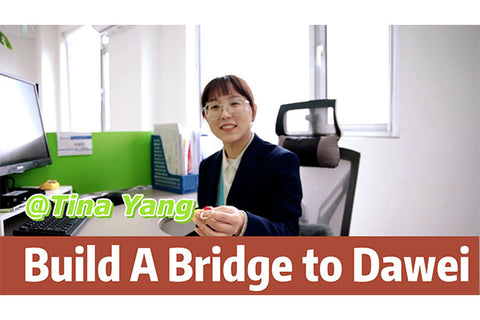 Interviewer: Hi, Tina. Before we start the short interview, let's do a quick Q & A, ok?
Interviewer: Three key words to give a summary of Dawei in Your Eyes
Tina Yang: Ultrasound,different and colorful
Interviewer: Three key words to describe your daily work
Tina Yang: busy, complicated, and fulfilling
Interviewer: Why choosing these three words?
Tina Yang: You know, I have so many things to do in a day, it's really a fast paced work. I need to reply customer's inquiries in time, sort out their needs and then follow up with our sales team. Since our clients from all over the world with various needs, it's complicated for me,to tackle with, but I'm still very pleased when I finish my work everyday.
Interviewer : I can imagine that every day you might receive hundreds of iquiries that form all over the world, is it chanlleging for you?
Tina Yang: Absolutely yes. Firstly, our customers come from all around the world, they have different languages and customs, so, sometimes I can't understand their meanings, and sometimes, I'm worried about touching their taboos and causing unpleasantness.
And, since we have different times, some feedback is late for our customers from us. Actually, I have received complaints from customers about late responses.
Interviewer : How do you cope with those challenges?
Tina Yang: As for language, translation software is so easy to use. And when I 'm free, I often browse information on cultural habits and other aspects of different countries.
About the time difference, I can't completely solve the problem caused by this natural condition. But I will download the corresponding App on my mobile phone to receive and reply messages at any time. If it is the middle of the night, when I open my eyes in the morning, I will check the mobile phone as soon as possible and reply in time.
Interviewer : Any impressive memories you would like to share with us?
Tina Yang: I once got a call from a customer who wanted to apply for after-sales service at 2 A.M.. When the sudden ringtone disrupted my sweet dreams, I really wanted to smash the phone for a moment. Fortunately, I controlled myself, but at that time I couldn't contact our after-sales engineer to help him solve the problem. I explained the situation to him, and he understood very well. We agreed to help him solve this problem as soon as I got back to work. if he can see this video. I still thanks for his understanding.