Dawei Medical always puts customer the first as the principle. How to prove for that, after-sales service team plays an indispensable role practising the principle of the front line with our customers.
Every day, they respond to various problems and feedbacks overseas and give the solutions within 24 hours. And they are clearly facing more difficult and complex challenges due to the sudden covid-19 pandemic. 
Under such circumstances, how did they put efforts to deal with? Today, we invite Jackson Xu, our service engineer to share his daily work and opinions.
Interviewer: Hi, Jackson. Would you like to introduce yourselves and tell us what you are responsible for?
Jackson: Hi, everyone. I'm Jackson, working as a service engineer with 8-year experience and mainly responsible for the ultrasound device after-sale services, including device maintenance, operating system & hardware problem solving as well as clinical operation questions answering and device training.
Interviewer: If I understood your work correctly, you are an expert in problem solving. How many issues do you need to address per day?
I don't have a number for you. Every day, our clients will encounter different problems and generally we conclude them into 10 types. With every type, they will be given a plan of solution. That requires a service engineer to be full-knowledge of any type of machines as well as the basic imaging operation.
Interviewer: Due to the pandemic, certainly the after-sales service team faced new challenges. Do we plan to cope with?
Jackson: Yes, we do. Considering the current situation, our team started a new online training plan to give a more detailed demonstration of our device usages, equipment functions as well as the basic ultrasound knowledge.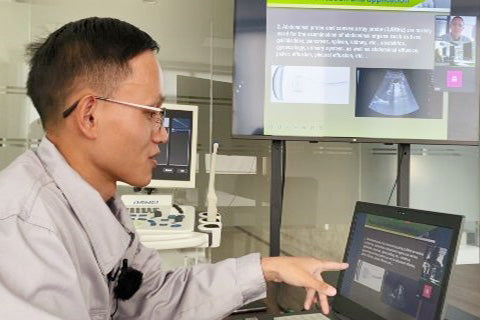 (Jackson is explaining the ultrasound princinple during the online training)
And for other special problems, we also made short videos to give solution step by step, which proves very effective in actual practices.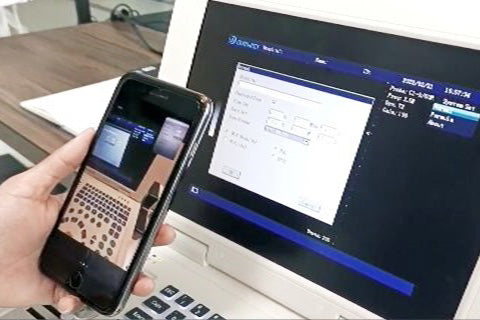 (Making a small video of DW-580 model usage demostration)
Interviewer: Does so many different problems mean a lot of stress for you?
Jackson: Indeed, it is a challenging work but every time our customer's problems get solved, I was full of happiness and accomplishment. And their recognition becomes greater motivation for me.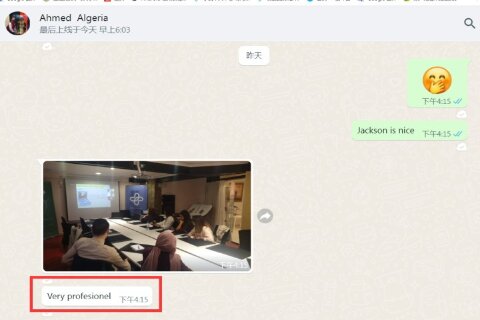 (Customer gave Jackson high praises of his work)