Regular price
$619.00 USD
Regular price
$649.00 USD
Sale price
$619.00 USD
Unit price
per
Sale
Sold out
Product Name: Brand New CE Certified Portable Laptop Black And White Ultrasound Diagnostic System K500

| | |
| --- | --- |
| Transducer | Applications |
| Convex Array *Recommended | Abdomen, OB/GYN, Urology |
| Transvaginal | Endovaginal, OB/GYN |
| Trans-rectal | Urology |
| Micro-Convex Array | Pediatrics |
| Linear Array *Recommended | Small Parts, Vascular, Musculoskeletal, Superficial |
| 4D volume | OB/GYN |
| Phased array | Cardiology |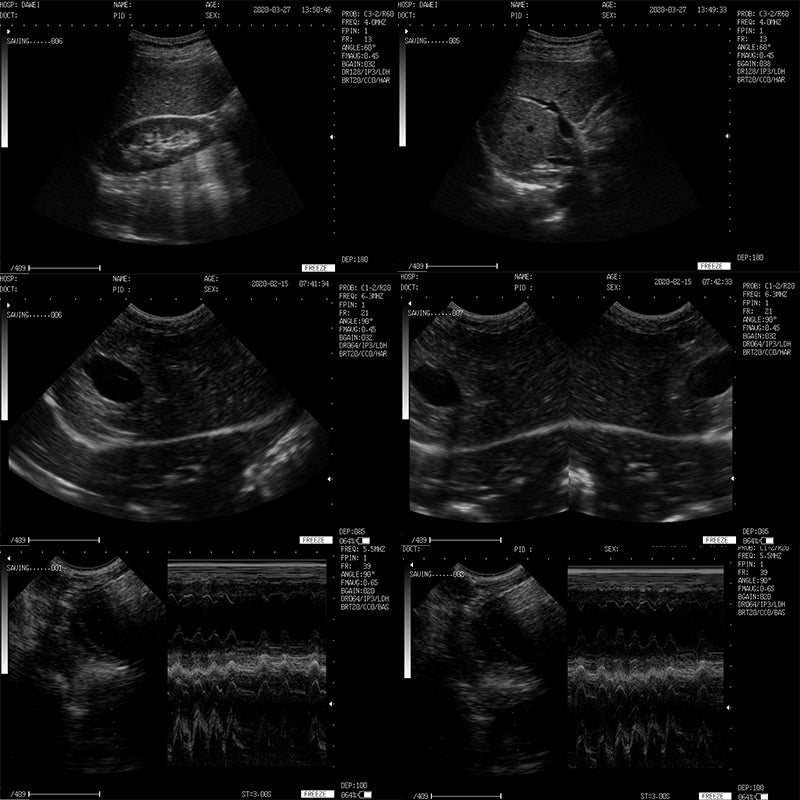 The DW-500 model has the following features makes it flexibility to apply to various complex environments:
1) Full digital system (no Windows OS), no need to network, it can be used immediately as long as the machine has power.
2) It comes with 8800 mAh lithium battery, which can last 4-6 hours under normal conditions.
3) Laptop style and the net weight is only 4.7kg, which is very convenient to carry and transfer.
4) Its convex array probe has 96 elements, which means better image quality in its class.
5)This model is suitable for most common applications and can be equipped with convex array, linear array, micro-convex array, trans-vaginal, and trans-rectal transducers.
Rich measurement features: distance, perimeter, area, volume, obstetric table measurement.
6) The machine body has one probe interface, but can be equipped with docking station, which two probes can both be inserted into it at the same time.
If more than two probes are commonly used, when switching probes, it is necessary to pull out the previous probe after shutting down, insert the new probe, and then restart the power supply.
After the docking station is equipped, different probes can be easily switched to quickly apply to different body parts inspection.
7) It can record the freezed image by a [Save] button, and there are also a [Review] button on the panel to view the saved image one by one or directly jump by inputting the serial number of the image.
8) The body can store 64 pictures, or you can use a USB flash drive to expand the capacity and easily transfer pictures to the computer. 
9) Support photo printing and regular printing, install the workstation software we provide on the computer, connect the computer to the ultrasound machine (with video interface), and finally realize the printing function.


FAQ
1) DO I NEED TO BE CONNECTED TO INTERNET IN ORDER TO USE IT ?

This model has no operating system(no win7 win8,etc.), so it can be used without network connection. It comes with a battery that lasts 4-6 hours.
Light and portable,for consultation in various environments of cities, towns, outdoor.

2) IS THIS A FULL FUNCTIONAL ULTRASOUND?
This model is suitable for most common applications and can be equipped with convex array, linear array, micro-convex array, trans-vaginal, and trans-rectal transducers.
It has one transducer interface, and can be equipped with docking station which two transducers can both be inserted into it at the same time.

3) IS IT COMPLETE SO THAT CAN BE USED IMMEDIATELY?
Our machines are assembled before leaving the factory, it is complete and can be used directly as long as it has power(8800mA Lithium battery, lasts 4-6 hours).
Our after-sales engineers are responsible for each machine sold, and provide free training for customers who do not know how to use the machine. The training is usually conducted online through WhatsApp or zoom.
And they will also provide assistance if you have any questions during use.

4) DOES THE LAPTOP RECORD THE ULTRASOUND IMAGING?
Absolutely it can record the imaging, during the actual operation, if you are satisfied with the current image, you can press the Freeze button and then press the Save button.
There is also a Review button on the panel to view pictures of the history. You can view one by one or enter the picture number to quickly jump to the corresponding picture.
This machine can store 64 pictures itself, and can also use usb flash drive to store.

5) CAN I PRINT THE IMAGES FROM IT?
We will provide workstation software, which need to be installed on the computer and connect the computer to our machine to print pictures.
If you are not familiar with this matter, our professional engineers will provide assistance.
Inkjet printers, laser printers and photo printers are available, You can choose the most suitable model and add it to the cart.
DW-K500 Black And White Ultrasound Imaging System
☑️As a new b&w ultrasound machine, the diagnosis of lesions was more accurate, ensured the ease of examination and consultation in different environments.
☑️HD display for easy adjustment.
☑️Backlit silicone keyboard, more comfortable and wear-resistant, darkroom no longer worry.
☑️Display puncture guide line, adjustable Angle and position.
☑️Rich measurement features: distance, perimeter, area, volume, obstetric table measurement, heart package.
☑️Super long endurance up to 4-6 hours, users can consult in cities, towns, outdoors and other environments.
☑️First-class digital imaging technology, clearer image:
☑️Full-digital beam imaging technology
☑️Real-time dynamic receiving focus point by point
☑️Real-time dynamic sound velocity changed
☑️High-accuracy DSC Digital image formation technology
☑️Intelligentized 8-segment TGC adjustment
☑️Progressive SMT components technology to ensure machine reliability.
| | |
| --- | --- |
| Display mode: | B,2B,4B,B/M,M |
| Probes: | 96 elements convex probe,high frequency linear probe, micro-convex,trans-vaginal probe, trans-rectal probe |
| Application: |  OB&GYN, Urology, Abdomen, Small Parts, Vascular, MSK |
| Operation panel: | user-friendly, convenient and flexible with a back-lit silica gel keyboard & trackball operation |
| Monitor: | 12.1-inch high resolution LED |
| Magnification: | ×0.8, ×0.8, ×0.90, ×0.95, ×1.0, ×1.05, ×1.10, ×1.20, ×1.30, ×1.40, ×1.50, ×1.60, ×1.80, ×2.0, ×2.2, ×2.5.(16 kinds) |
2

Functional characteristics

2.1

4-6h super long stand-by time

2.2

Real-time dynamic acoustic velocity track(DRA)

2.3

Tissue Harmonic Imaging(THI)

2.4

Intelligent menu, man - machine dialogue easily and fastly

2.5

Puncture guidance line, angle and position adjustable

2.6

External USB storage, it's more convenient for image uploading

2.7

Maximum 655 frames video playback, image automatic loop

demonstration

2.8

Rich measurement functions:  distance, circumference, area, volume,

obstetric measurement scale, cardiac:  pulmonary artery, mitral valve,

heart rate, ventricular output and other measurements;Histogram measurement.

3

Performance introduction

3.1

Display Modes: B、B+B、4B、B+M、M

3.2

Electronic focusing:  whole-process focusing technology

3.3

Body marks: ≥40 kinds

3.4

Frequency range:

3.5MHz: 2.5MHz、3.5MHz、4.5MHz、5.5MHz;
6.5MHz: 5.5MHz、6.5MHz、7.5MHz、8.5MHz;
7.5MHz: 6.5MHz、7.5MHz、8.5MHz、9.5MHz;   

3.5

Image Mirror: Up/down, Left/Right, mirror conversion and operation

in any mode

3.6

In any imaging mode, the data can be measured in real time

3.7

Obstetric measurement datas memory automatically and  report

generation function

3.8

Character display:  date, clock, name, gender, age, doctor, hospital,

comment (full screen character editor)

3.9

Support for permanent storage; Support U disk storage

3.10

Gray Scale: 256 Levels

3.11

With gravel positioning, dynamic target tracking

3.12

Dynamic Range: 64-192dB, step 2, with independent buttons,

invisble and adjustable cyclically

3.13

Intelligent TGC :  8 segments.

3.14

Gain: 0-100, step 2

3.15

Variable aperture, dynamic apodization, dynamic digital filtering, etc.

3.16

Tissue Harmonic Imaging, invisble and adjustable

3.17

8 kinds of pseudo colors

3.18

12 kinds of frame correlation, with independent buttons, visible and adjustable,

increase or decrease in time according to the image

3.19

Scanning range ≥12 levels, with independent buttons, visible and adjustable,

 increase or decrease in time according to the image

3.20

Maximum depth:  ≥190mm;

3.21

Interfaces : RS-232 、VGA 、VIDEO 、2 USB ports、DICOM

3.22

Display magnification:  16 kinds of display modes.

3.23

Boot time: ≤3 seconds

3.24

Built-in 8800mA lithium battery

3.25

Net Weight 4.7KG

4

After-sales service and other requirements

4.1

Medical Device Quality Management System (ISO13485) Certificate

4.2

Equipment inspection report

4.3

CE Certification

4.4

Warranty for two years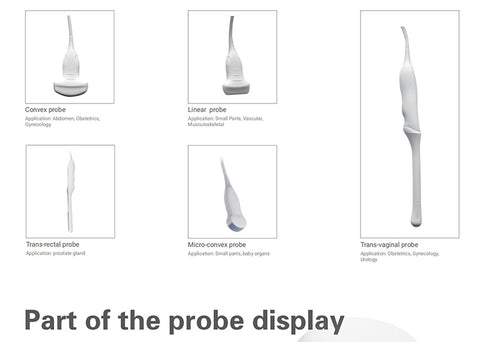 K500 laptop ultrasound machine: Flexible and convenient operating system
A type of high array, high definition, multi-function full-digital real 96elements laptop ultrasonic diagnostic apparatus.
Please Note: Accessories such as trolleys need to be purchased together with the machine, and additional shipping will be charged for separate purchases (estimated between 300-600 US dollars)
PARAMETER PERFORMANCE INDEX
Share
View full details
Our service you may want to know
Shipping & Delivery

SHIPPING COST:

Free shipping for all orders of $59 or more of eligible items.

TAXES: 0

SHIPPING TIME:

| | |
| --- | --- |
| DESTINATIONS | AVERAGE SHIPPING TIME |
| United States | 12-15 days |
| Other regions except for South America | 7-25 days |
| South America | 15-35 days |
Return Policy

You can return your online order within 30 days of receiving your order.
Warranty

All products come with two years warranty + lifetime after-sales.
After-sales service

Professional engineering team responsible for after-sales service, including training and remote diagnosis, etc.

Training includes recorded video tutorial and one-on-one online technical support (usually via Zoom or WhatsApp).
Bulk purchase

Discounts for bulk purchases, support OEM/ODM services and personalized customization. Please consult customer service for details.
Contact us

Hocom He

Whatsapp: 0086 13615102193

Email: hocom@dwultrasound.com

Contact form below (via email)
I don't like the resolution
But in general terms
It helps to assess
Thank you for your review of our product, we are sorry that the resolution didn't meet your expectations, we will continue to improve our product and still hope you enjoy it.
Thanks for you, my friend, we focus on the quality to meet different clients' demand.
Feedback from our clients